Our Strength is Our People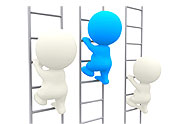 We value our employees and they are the main assets of the company. Our employees have contributed to our growth and success. Our valuable employees made the company excel in Operational Excellence and Production Innovation. We take great pride in our breadth of perspectives, our willingness to innovate, and our ability to collaborate effectively with clients. These qualities, along with the values we share, ensure that our clients are extraordinarily satisfied and our employees are able to develop their skills and build rewarding careers. Our employees are competent and adept in new emerging technologies. Most of them are certified in their areas of expertise.
We also provide you with the opportunity to enhance your skills through comprehensive technical training programs
We are always looking for qualified people to join our team. If you are interested in employment opportunities at iKat Solutions , please email your resume to jobs@ikatsolutions.com. iKat Solutions is an Equal Opportunity Employer.